Can new paradigms bring new perspectives for mismatch negativity studies in schizophrenia?
Neuropsychiatric Electrophysiology
2015
1:12
Received: 2 February 2015
Accepted: 1 June 2015
Published: 16 September 2015
Abstract
Attenuation of mismatch negativity (MMN), event-related potential (ERP) that assess dysfunction in auditory change detection, is a robust finding in schizophrenia. Most studies on MMN in schizophrenia use a two-tone paradigm in which the deviant sound has a different duration or frequency. Because this oddball paradigm has provided consistent results over time and has proven to be a reliable research tool, it dominates this area of research. Over twenty years of investigation into MMN in schizophrenia have shown that change in any of the characteristics of stimulation results in MMN; however there is surprisingly little evidence on MMN in schizophrenia from studies using stimulation other than the typical oddball paradigm. In this paper we focus on studies which have assessed auditory change discrimination in schizophrenia employing paradigms other than a typical oddball. We also briefly discuss research on visual MMN in schizophrenia. The aim was to highlight how research using new paradigms has added to understanding of MMN in schizophrenia. In conclusion we discuss stimulation which could be useful for future research on MMN in schizophrenia.
Keywords
Mismatch negativityAuditoryVisualEvent-related potentialSchizophreniaDeviant soundOddballMulti-featureRoving paradigm
Introduction
The limited computational resources of human and animal neuronal circuitry are challenged every day by receiving large volumes of data from a diverse environment. According to the perceptual load theory (Lavie et al. 2014) automatic processes are used to assign neuronal computational resources to relevant stimuli and ignore irrelevant stimuli. One of the main roles of automatic pre-attentive processes in the brain is to identify relevant environmental stimuli and prevent exceeding the system's analytical capacity by the volume of data transferred from sensory receptors. There is mounting research evidence that the mismatch negativity (MMN) is the event-related potential (ERP) that reflects the detection of novelty. Neural networks recognize novel information by continually comparing incoming stimuli with recent perception (Näätänen et al. 2012). When incoming stimuli do not match the memory trace of previous stimuli the novelty is detected by mechanisms which result in generation of MMN.
The stimulation commonly used to elicit MMN is the auditory oddball paradigm; this consists of a series of standard tones infrequently interrupted by deviant tones which differ in some feature (usually duration or frequency) from the standard tones. The MMN waveform is calculated by subtracting the average standard stimuli evoked ERP from the average deviant evoked ERP waveform. The magnitude of MMN is thus dependent on formation of accurate memory traces in response to standard stimuli (Baldeweg and Hirsch
2014
) and the ability to discriminate incoming deviant stimuli accurately. MMN-related information processing has been interpreted as detection of discrepancies between prediction model based on information about preceding and factual incoming stimuli (Winkler
2007
). In a typical oddball paradigm the peak MMN amplitude occurs 100-250 ms after the presentation of the stimuli (Fig.
1
). The largest negative MMN amplitude is recorded at fronto-central electrodes (Duncan et al.
2009
).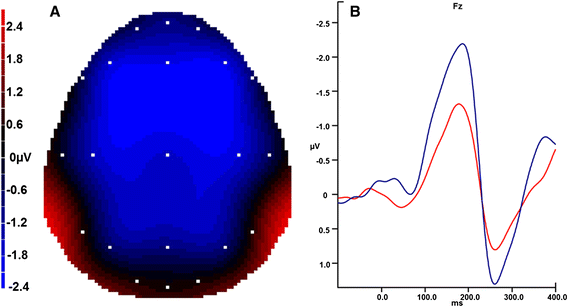 Generation of MMN is context-dependent, which means that the design of the paradigm determines whether a given stimulus is perceived as standard or deviant. MMN can also be elicited by changing sequence pattern of stimulation rather than any physical feature of the stimuli, for example by repeating a stimulus in a sequence of changing stimuli (Macdonald and Campbell 2013). In summary, MMN reflects the brain's ability to detect auditory changes automatically.
Animal experiments have shown that elicitation of a MMN is directly dependent on the functionality of NMDA receptors. An experiment conducted on monkeys (Javitt et al. 1996) found that epidural MMNs were abolished by administration of an NMDA receptor antagonist. Research using the partial NMDA antagonist ketamine (Javitt et al. 2012) provided support for the hypothesis that glutamate plays an important role in the pathophysiology of auditory perception in psychosis.
Interestingly, as well as confirming the importance of the glutamatergic system to generation of MMN, human research has linked impaired detection of auditory deviants to vulnerability to ketamine-induced psychotic symptoms. A study of healthy volunteers (Umbricht et al. 2000) reported that after administration of ketamine total score on the Brief Psychiatric Rating Scale (BPRS) and psychosis factor scores were significantly higher, and MMN amplitude was significantly smaller, than after administration of a placebo. Importantly, subsequent analysis of the data from this experiment (Umbricht et al. 2002) revealed a negative correlation between MMN amplitude during the placebo and total BPRS score in the ketamine condition).
The auditory components of MMN generators are located in frontal and bilaterally in temporal lobes in primary and secondary auditory cortices (Alho 1995). Importantly for this discussion, the exact location of generators varies according to the nature of the stimulation used (Alho 1995; Tiitinen et al. 1993).
Since it was first described (Näätänen et al. 1978) the MMN has been applied in numerous areas of research (Näätänen et al. 2012). MMN is elicited automatically; the process does not depend on the attention of the subject, so that it has been used frequently in research with less cooperative subjects. Impairment of MMN in neuropsychiatric clinical populations has been associated with cognitive deficits (Näätänen et al. 2011; Näätänen et al. 2014). In this paper we review research on MMN in schizophrenia, focusing on research using stimulation other than the auditory oddball paradigm.
Conclusions
In spite of the fact that MMN can be elicited by a great variety of stimuli it seems that most data on MMN in schizophrenia is based on research using an auditory oddball paradigm with deviants to duration and frequency. The advantages of this are that it makes it easy to compare studies; however the homogeneity of stimuli may limit the development of MMN as a valuable biomarker. For example there is evidence of age-related changes in the amplitude of frequency (Cheng et al. 2013a) and duration (Cheng et al. 2013b) MMN; such effects might bias the results of controlled studies of MMN in schizophrenia (Todd et al. 2014).
Research based on use of the other than typical two-tone oddball paradigm has quite often provided new information on auditory impairments in schizophrenia, contributing in particular to understanding of the pathophysiology of MMN deficits and their relationship to use of antipsychotic medication or particular symptoms. Research on detection of changes in visual stimulation has recently emerged as an interesting alternative to research on traditional auditory MMN. Although data on vMMN in schizophrenia are scarce, visual stimuli may be more useful for investigating MMN related to, for example, emotion recognition.
The body of evidence presented in this review supports the notion that use of a wider range of stimulation other stimulation modalities has enabled researchers to broaden investigations into the MMN system and thereby improve our understanding of deficits in pre-attentive change detection in this clinical population.
Authors' Affiliations
(1)
Third Department of Psychiatry, Institute of Psychiatry and Neurology, Warsaw, Poland
(2)
Department of Clinical Neurophysiology, Institute of Psychiatry and Neurology, Warsaw, Poland
Copyright
© Jarkiewicz and Wichniak. 2015
This is an Open Access article distributed under the terms of the Creative Commons Attribution License (http://creativecommons.org/licenses/by/4.0), which permits unrestricted use, distribution, and reproduction in any medium, provided the original work is properly credited. The Creative Commons Public Domain Dedication waiver (http://creativecommons.org/publicdomain/zero/1.0/) applies to the data made available in this article, unless otherwise stated.